AtlasCopco Hydraulic drill rig PowerROC D45
[ Edit:

admin

  Created Date:

2015-06-03

Readed Times:

Font:

big

middle

small

]
Atlas Copco Surface drill rigs
PowerROC D45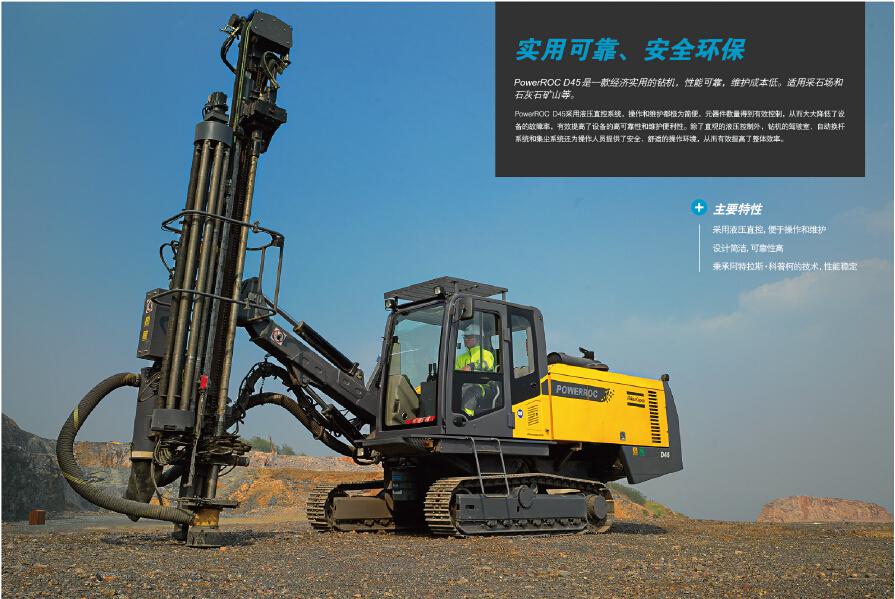 Hole Diameter 90-130mm(3-4-4.5inch)/ Depth 21m
Main application:Limestone quarries/Surface mining/Aggregate quarries
Drilling method: Down-The-Hole
DTH hammer:
DHD3.5 (90-110mm hole diameter)/API2 3/8'' REG Pin/22.6kg/829mm Length
DHD4 Gold (115-130mm hole diameter)/API2 3/8'' REG Pin/39.5kg/907mm Length
Characteristic:
Power up your performance with a partner you can trust
The PowerROC D45 is designed according to our philosophy of giving the customers a reliable drill rig with high capacity, maximum up-time and simplicity in operation.
Powerful and economical in drilling
PowerROC D45 is equipped with an on board Atlas Copco C146 compressor delivering 225 l/s of air up to a pressure of 17 bar for high penetration rate and strong flushing, helping to ensure straight and clean holes.The straightforward hydraulic design with strong piston pumps delivers productivity and reliability even in demanding applications.
Maneuverability, mobility and safety in focus
The PowerROC D45 crawler has excellent maneuverability. The high ground clearance and fast tramming ability enables the rig to drill in tough terrain and achieve safe transportation on site.PowerROC D45 features a strong single section boom design, centrally located, this gives the operator a good view, offering easy and straightforward positioning.
DTH hammers – strikingly efficient
The PowerROC D45 can be equipped with a range of Atlas Copco down-the-hole hammers which are well known for their high performance in terms of speed and reliability. With high penetration rates and low fuel consumption per meter drilled Atlas Copco's hammers make a positive impact on your bottom line.
Easy maintenance and serviceability
Like all our crawlers, the PowerROC D45 is designed for easy maintenance with
ready access to service points. All hoses, cables and the simplified electrical system are marked at each end to coincide with the schematic drawings in spare parts lists for easy trouble-shooting.
Main benefits
Easy operation and maintenance in various drilling applications
High reliability due to straightforward design
Robust and highly productive thanks to the use of the proven AtlasCopco technology
Main Component:
Crawler with dust cleaner,Double speed walk motor/movable frame
Cummins Diesel Engine with Tire II Environment Level
Atlas Copco screw air compressor
Air Condition-Driven room
Single Boom
Carbon steel feed beam
Automatic drill pipe exchange system
Hydraulic clipper
Dust collect system
Pre separator
DTH Hammer Lubricating device
Drill pipe screw lubricating device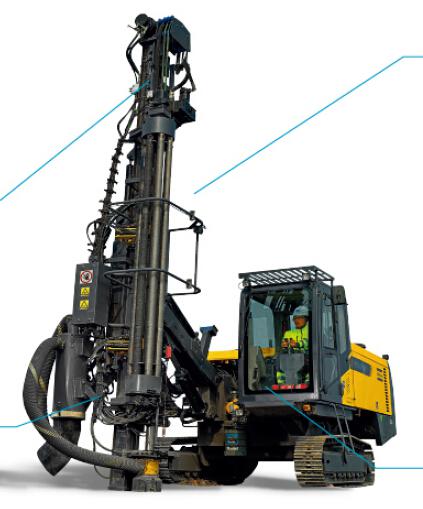 Reversing alarm
Automatic drill pipe exchange system
Reliable hydraulic motor
driven chain type feed beam
Electric/Hydraulic
system/sinple operation
ensure reliable
Hydraulic direct control,easy operation
Main Technical Specifications
Diesel Engine
Cummins Turbo Engine,Tire II
Screw Air Compressor
AtlasCopco C146, Single stage screw compressor
Max work pressure:17bar
FAD: 225 L/S
Feed Beam
Hydraulic Motor driven chain type feed beam with double support/portable dust collect cover
Max feed speed: 1.1 m/s
Max feed force: 12 KN
Max pull force: 18 KN
Total length: 5730 mm
Feed journey: 3330 mm
Dust collector
Model DCT 150
Filtering square: 15 m2
Filtering quantity: 15 pcs
Suction force, 500 mm wg: 350 L/S
Max clear air pressure: 7.0 bar
Clear air flow capacity: 2-4 L/Pulse
Hydraulic system
Ambient Temperature: -20 ~50℃
Gear oil Pump(1): 95 L/min
Gear oil Pump(2): 95 L/min
Gear oil Pump(3): 45 L/min
Gear oil Pump(4): 75 L/min
Filtering precision: 16 um absolute
Electric System
Voltage: 24V
Batter: 2 X 12V, 200Ah
Generator: 28V, 95A
Work light(front): 3 X 70W
Work light(behind): 1 X 70W
Work light(feed beam): 2 X 70 W
Various Lubricating oil volume
Hydraulic oil: 360 L
Hydraulic system,Total: 450 L
Screw compressor: 63 L
Engine oil: 30 L
Coolant engine: 60 L
Fuel Tank: 500 L
Walk motor gear oil: 3 L
Hammer lubricating oil: 10 L
Rotary Head
Model: DRU 4
Connection: API 2 7/8'' IF
Max rotary speed: 144 rpm
Max drilling torque: 1140 Nm
Max unloading torque: 1640 Nm
Hole diameter range
Drill pipe: Ø76mm Rod , 21 mm
Drill Pipe depth: 21 m
First drilling depth: 3.3 m
Hammer DHD 3.5, 90-110mm / API 2 3/8'' REG Pin / 22.6 Kg / 829 mm Length
Hammer DHD 4 Gold, 115-130mm / API 2 3/8'' REG Pin / 39.5Kg / 907 mm Length
Dimension and Weight(Transportation)
Length: 9100 mm / Height: 3200 mm / Width: 2500 mm
Feed beam Height: 6160mm
Weight: 14 000 KG
【Print the page.】【Close the page.】