NHP1500 Oil-free compressor
[ Edit:

admin

  Created Date:

2013-02-27

Readed Times:

Font:

big

middle

small

]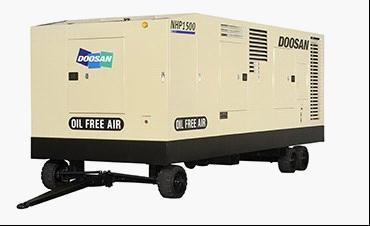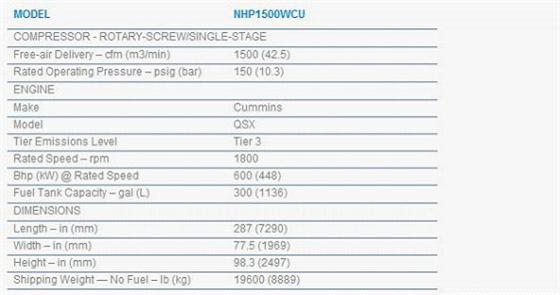 NHP1500
Oil-free compressor
For more than 125 years, portable air compressors from Doosan Portable Power have been the world leader in compressor technology.
That tradition of leadership continues with our 1500 model oil-free compressor, built specifically for applications where quality air is a must,
including petrochemical and nuclear facilities.
Carefully designed to meet your specific demands, the 1500 provides the power, fuel efficiency, and easy-to-operate features you need while
meeting current and future emissions regulations.This high-performance compressor will help you get the most out of your long-term rental dollar.
MODEL

NHP1500WCU

COMPRESSOR - ROTARY-SCREW/SINGLE-STAGE

Free-air Delivery – cfm (m3/min)

1500 (42.5)

Rated Operating Pressure – psig (bar)

150 (10.3)

ENGINE

Make

Cummins

Model

QSX

Tier Emissions Level

Tier 3

Rated Speed – rpm

1800

Bhp (kW) @ Rated Speed

600 (448)

Fuel Tank Capacity – gal (L)

300 (1136)

DIMENSIONS

Length – in (mm)

287 (7290)

Width – in (mm)

77.5 (1969)

Height – in (mm)

98.3 (2497)

Shipping Weight — No Fuel – lb (kg)

19600 (8889)
【Print the page.】【Close the page.】