ZGYX-440/450/460/470 Hydraulic DTH Drill Rig
[ Edit:

admin

  Created Date:

2013-05-05

Readed Times:

Font:

big

middle

small

]
Automatic DTH Surface Drill Rigs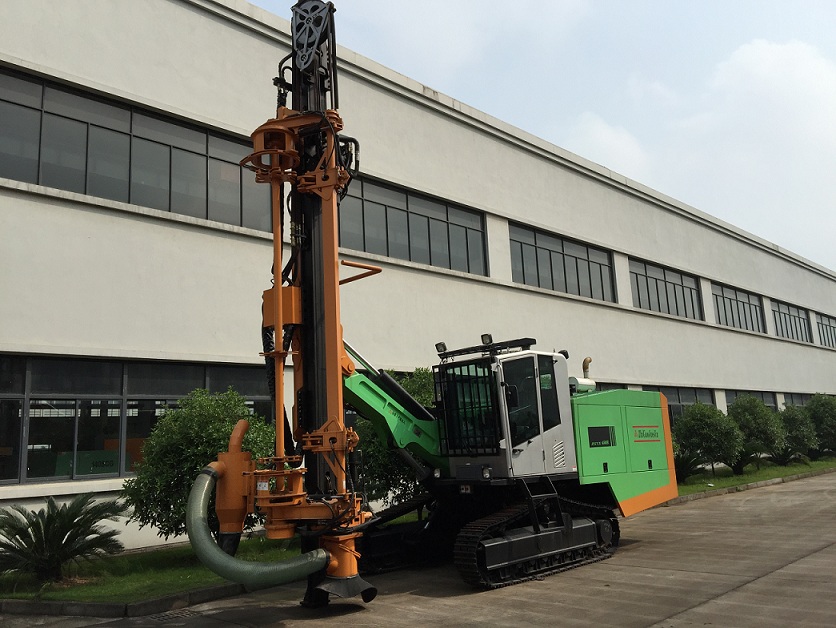 ZGYX-440 / 450 / 460 / 470
This series of heavy-duty automatic down the hole (£)TH)'surface blast hole drill rigs developed and manufactured by Zhejiang ZEGA Machinery Co., Ltd. with diesel engine, air compressor and automated
hydraulic control system on board is standard equipped with cabin, automatic drill pipe handling system, heavy duty tramming motor and chassis with
oscillation mechanism. The smooth drilling system, fast tramming speed and cross terrain adaptability make this series of rigs suitable for many
complicated rock drilling applications. These rigs equipped with two stage dust collector is environmental friendly and widely used in various
construction and mining applications. High efficiency, energy saving, environment friendly and many safety features also make these rigs
highly recommended for green mining and global market.
Reduced drilling preparation time due to high efficient automatic drill pipe handling system up to 6 m long drill pipe and strong cross terrain capability.
The penetration rate is highly improved with less rock drilling tools consuming because of the high pressure and large displacement screw air
compressors on board for more complete debris flushing. The larger diameter drill pipes contribute to less compressed air consumption when flushing.
Powerful feeding and rotation design reduces jamming problems on top of enhances drilling speed even with complicated rock bases. Single operator
lowers labor cost. Bigger hole sizes require less number of total holes. High performance drill rigs reduce the fleet size.
Single power pack (only one diesel engine) drives both screw air compressor and hydraulic system with power output of stagger design. Comparing
with separated drills, the power output of diesel engine of the automatic DTH rig is reduced by 30% and maintenance cost reduced by 50%. Lower
total energy consumption, faster drilling speed, shorter preparation time and less holes reduce the drilling cost per capita sharply.
Standard two stage (optional water mist system) dust collector makes this series of rigs very much environment friendly.
The track oscillation system makes the rig center of gravity more stable while climbing up and down the slopes giving the tracks superior traction。Less equipment and workers are required. The drill pipe carousol and cab protect operation personnel from accident.
Made of special steel, stated of the art structure and manufacture design and process.
Technical Specification:
Model

ZGYX-440

ZGYX-450

ZGYX-460

ZGYX-470

Diesel Engine

Model

YC6A260L-T20

D10.36T20

C11

6MK400L-K20

Manufacturer

YuChai

Steyr or CUMMINS

Caterpillar

YuChai

Rated Power

191 kw

266 kw

287 kw

294 kw

Speed

2000 rpm

1850 rpm

1800 rpm

2000 rpm

Fuel Tank Capacity

350 L

480 L

600 L

600 L

Screw Air Compressor

Manufacturer

ZEGA

ZEGA

ZEGA

ZEGA

Air End Manufacturer

GE

GHH

Ingersoll Rand

GE

FAD

16 m3/min

18 m3/min

20 m3/min

22 m3/min

Working Pressure(Max.)

17 bar

17 bar

24 bar

24 bar

Functional Specifications

Hole Range

90-115 mm

110-152 mm

138-165 mm

138-178 mm

Recommended Hole Size

115 mm

138 mm

152 mm

165 mm

Hole Depth (Max.) of Auto Pipe Handling

28 m

28 m

35 m

30 m

Drill Pipe Diameter

76 mm / 68 mm

89 mm /102 mm

89 mm/102 mm

89 mm/102 mm/114 mm

Drill Pipe Length

3.5 m

4 m

5 m

6 m

Pipe Handling System

7+1

6+1

6+1

4+1

Hammer Size

3.5inch / 4inch

4inch / 5inch

4inch / 5inch / 6inch

4inch / 5inch / 6inch

Rotation Speed

0-105 r/min

0〜05 r/min

0~ 105 r/min

0~ 105 r/min

Rotation Torque

2800 N.m

4310 N.m

4310 N.m

4310 N.m

Function of Boom

Boom Type

Single Straight-boom

Length of Feed Beam

6865 mm

8100 mm

9100 mm

9950 mm

Feed Extension

1200 mm

1200 mm

1300 mm

1300 mm

Feed Lift Capacity (Max.)

15 kn

34.5 kn

34.5 kn

34.5 kn

Feeding Type Motor / Chain

Motor Chain Mode

Cylinder / Steel Cable Wire

Travel Length

4100 mm

4600 mm

5600 mm

6600 mm

Feed Rate(Max.)

0.85 m/s

0.88 m/s

0.88 m/s

0.88 m/s

Pull up Force (Max.)

31 kn

67.6 kn

67.6 kn

67.6 kn

Chassis

Tramming Speed(Max.)

High: 3 km/h

Low: 1.5 km/h

High: 3 km/h

Low: 1.5 km/h

High: 3 km/h

Low: 1.5 km/h

High: 3 km/h

Low: 1.5 km/h

Max. Climbility

25°

25°

25°

25°

Ground Clearance

450 mm

420 mm

420 mm

420 mm

Max. Traction Force

115.4 kn

117.7 kn

130 kn

156.2 kn

Track Oscillation

±10°

±10°

±10°

±10°
Dimension & Weight:
| | | | | |
| --- | --- | --- | --- | --- |
| Width | 2480 mm | 2500 mm | 2500 mm | 2500 mm |
| Length | 9980 mm | 10260 mm | 11280 mm | 12290 mm |
| Height | 3200 mm | 3280 mm | 3530 mm | 3530 mm |
| Weight (excluded options) | 15000 kg | 21000 kg | 23000 kg | 23000 kg |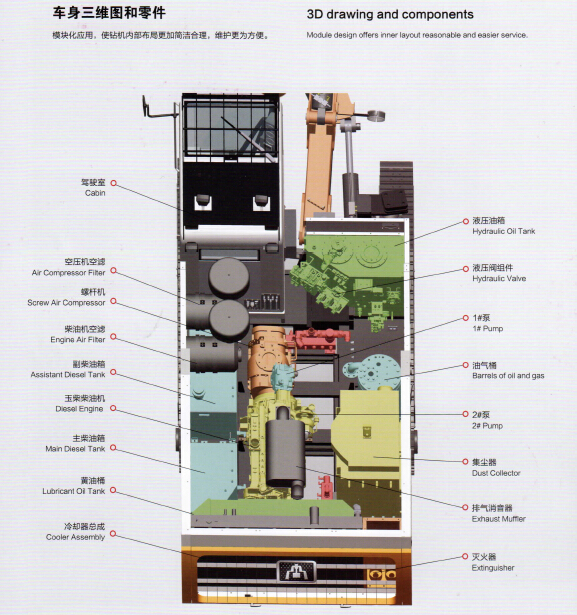 【Print the page.】【Close the page.】