ZGYX-430 Surface Down The Hole Drill Rig
[ Edit:

admin

  Created Date:

2013-05-05

Readed Times:

Font:

big

middle

small

]
ZGYX-430 Surface Down The Hole Drill Rig
3 types of power packs, Yuchai YC4A100 diesel engine or 45kw/55kw electric motor.
Maximum rotation unit torque up to 5500 N/m as option for bolting, casing and large-diameter spiral drilling. Excavator tramming system, reliable and durable, speed up to 3 km/h.
■ High-performance wet pre-air filter system developed by Zega together with dry air filters for three-stage air filtering system to protect diesel engine better.
■ Optional two-stage dust collector for near dust-free drilling. More environment friendly for improved engine life.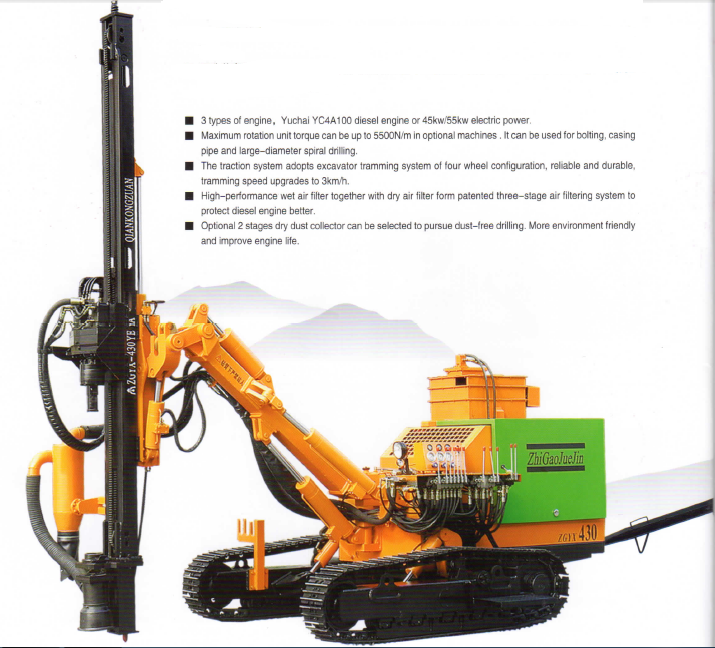 ZGYX-430
T
echnical Specifications
76 mm Standard / 89 mm Option

2350 N.m / 5500 N.m Optio

n

YuChai Diesel Engine

/

electric motor

55kw-4 electric moto

r

(Option

)
Recommended Air compressors
:
Normal altitude : 177SCY-17,191SCY-17
Diesel portable medium pressure: 178SCY-14.5,138SCY-14.5,139SCY-14.5,190SCY-16
Diesel portable high pressure: 177SCY-17,250SCY-19,260SCY-21
e
lec
tric portable medium pressure:90SDY-14.5,132SDY-13
Electric portable high air pressure : 185SDY-17, 200SDY-21
【Print the page.】【Close the page.】